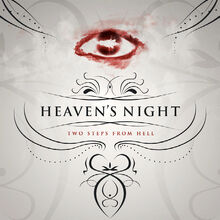 Information
Edit
Heaven's Night was an unreleased album created by Two Steps From Hell, before Invincible was conceived. It included tracks from Volume One, Dynasty, Nemesis, Dreams & Imaginations, Legend, The Devil Wears Nada, Power of Darkness and the then-unreleased Illusions. Most of the tracks have since been released on other public albums, with the rest most likely coming soon via the Anthology series.
Track List
Edit
Dreamscapes
Edit
Epic Emotions
Edit
Adventourism
Edit
Dark Universe
Edit
It is rumored that this album is the missing "XTS036" of Extreme Music.
If this album had been released, it would have been the first public album to have featured "sections" of songs.

It also would have been the only album to feature Kate St. Pierre.
Additional Pictures
Edit